WE TAKE YOUR TRAINING SERIOUSLY.
Over the last Decade, we've developed and refined a complete training package based on, and exceeding the USPPA guidelines. Our students go home with not only the skills necessary to fly paramotors, but the knowledge to keep themselves and others safe and the wisdom to make sound decisions as Pilot in Command of an aircraft.
WHAT'S INCLUDED?
You'll be training on our gear. Your training is broken down into 2 phases. First off, you'll get extensive training in the field ground handling your glider and classroom work covering laws of the sky, glider and motor essentials, weather and safety.
In Phase 2, we'll put everything together in flight and develop your ability to skillfully take off, fly and land your glider.
---
Dave Halcomb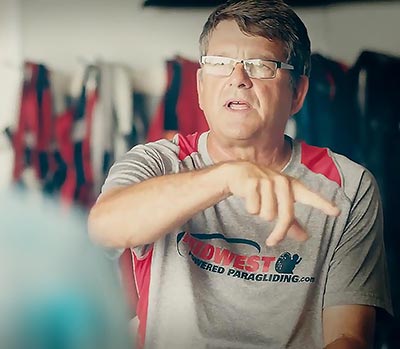 ---
Dave has been flying Powered Paragliders for nearly 20 years. Since Dave founded Midwest PPG in 2004, the school has grown from a hobby to help friends to one of the largest, most active schools in the United Stated. Annually, Midwest PPG trains more than 80 students a year from locations all over the U.S and the world. Dave is a USPPA Instructor Administrator
Dave's personal equipment setup is the Miniplane Top80 Paramotor and the Macpara Colorado 23m Glider.
---
Brad Ragle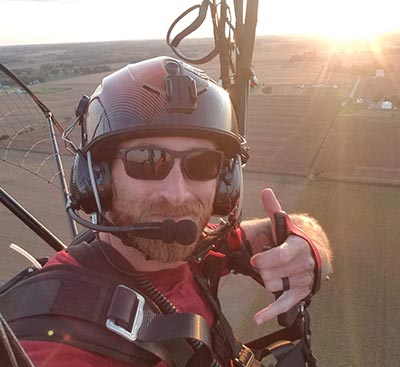 ---
Brad learned to fly Paramotors in 2018 and immediately demonstrated a natural talent at the sport. He has an instruction background from the U.S. Army Schools of Air Assault and Pathfinder. He joined Midwest PPG in 2019 as an Instructor Trainee and is now a full time instructor.
His personal equipment setup is the Parajet Maverick Atom80 Paramotor and the Ozone Roadster 3 24m Glider.
---
Matt Massie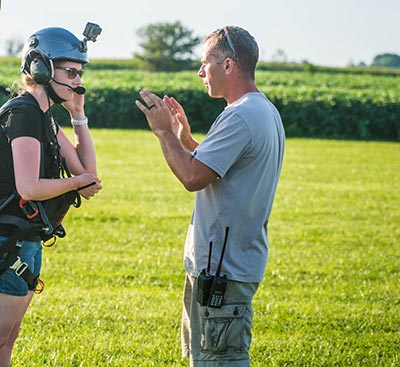 ---
Matt began his aviation career in General Aviation and skydiving, but transitioned strictly to gliders in 2010. He was trained in paragliding, speed flying and speed riding in California before learning paramotoring in 2015. His certifications include USPPA Paramotor Instructor, P4 Paragliding, M2 Miniwing and Advanced SIV.
His personal equipment setup is the Air Conception Nitro 200 Paramotor with Ozone Angel 140SQ Reserve and the Ozone Viper 4 18m Glider.
---
Jacey Massie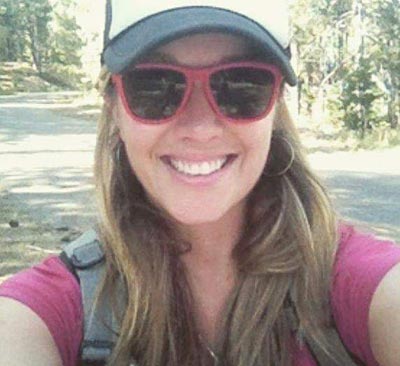 ---
Jacey joined Midwest PPG in 2017 and handles our training booking, equipment purchasing and generally keeps us on track and organized. She's usually the first person you meet when you join the Midwest PPG Family. She is a paraglider and speed wing pilot and though she doesn't fly paramotor yet, she plans on learning soon.
Great guys! Great place to learn to fly!
Went to 3 different classes, learned more at Midwest by a long shot!! Very exciting, and thorough
Dave and Brad lent their expertise to help me with a review of my equipment and techniques
Ian The Real G
2023-03-21
I am still flying 5 years later. Every day of class I was learning new critical information for safely piloting a PPG. Bottom line is if you want to fly PPG for a long time and stay alive you need lessons from a teacher with a ton of experience flying and teaching. Matt and Dave are the guys. This is as safe as it gets.
Jason Maurillo
2022-11-04
Training is great and the instructors are amazing at their jobs.
Dave and Brad were amazing instructors! I highly recommend Midwest PPG! This was a great way to learn about the community, proper techniques and how to fly safe!
I did my training in early August of 2022. Dave, Brad, and Matt were all phenomenal instructors. The classroom section was great and I feel like I have a great understanding behind the technical side of ppg. The actual flying was also great, they made sure that we understood all the mistakes we were making, and corrected them early. We even had the opportunity to do a cross country at the end of the week. Overall I would recommend MidwestPPG to anyone looking to get into the sport.
I trained at Midwest PPG in the Fall of 2021. Dave and Brad were super professional in how they run their training program. They prioritize safety above all else and after very thorough ground instruction, I felt very confident to take my first flights into the sky. Having those guys as calm voices on the radio when you have a million things going thru your head as a new pilot. is incredibly reassuring. They covered all the basics and then some in the their ground school and I can confidently say they are my go-to referral for anyone wanting to get into the sport.

Midwest Powered Paragliding
(317) 296-7888
Office Hours (Offsite):
9 am - 5 pm EST   
Sunday-Monday-Wednesday-Thursday-Saturday
Office Closed : Tuesday and Friday
Training Facility Hours:
Hours at the field vary due to weather and training schedules.  Please call to schedule an appointment prior to coming.