WE TAKE YOUR TRAINING SERIOUSLY.
Over the last Decade, we've developed and refined a complete training package based on, and exceeding the USPPA guidelines. Our students go home with not only the skills necessary to fly paramotors, but the knowledge to keep themselves and others safe and the wisdom to make sound decisions as Pilot in Command of an aircraft.
WHAT'S INCLUDED?
You'll be training on our gear. Your training is broken down into 2 phases. First off, you'll get extensive training in the field ground handling your glider and classroom work covering laws of the sky, glider and motor essentials, weather and safety.
In Phase 2, we'll put everything together in flight and develop your ability to skillfully take off, fly and land your glider.
---
Dave Halcomb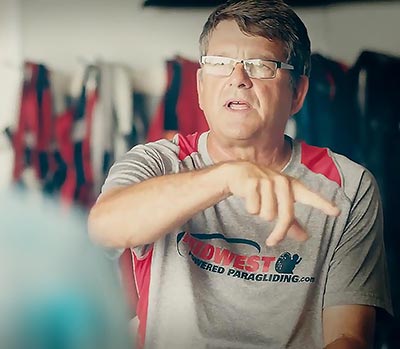 ---
Dave has been flying Powered Paragliders for nearly 20 years. Since Dave founded Midwest PPG in 2004, the school has grown from a hobby to help friends to one of the largest, most active schools in the United Stated. Annually, Midwest PPG trains more than 80 students a year from locations all over the U.S and the world. Dave is a USPPA Instructor Administrator
Dave's personal equipment setup is the Miniplane Top80 Paramotor and the Macpara Colorado 23m Glider.
---
Brad Ragle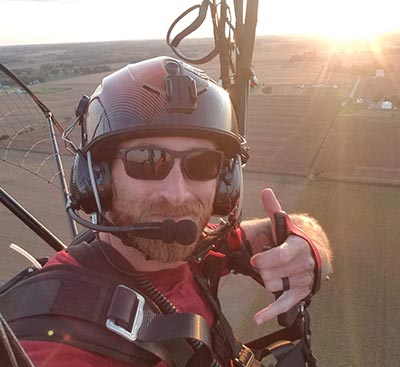 ---
Brad learned to fly Paramotors in 2018 and immediately demonstrated a natural talent at the sport. He has an instruction background from the U.S. Army Schools of Air Assault and Pathfinder. He joined Midwest PPG in 2019 as an Instructor Trainee and is now a full time instructor.
His personal equipment setup is the Parajet Maverick Atom80 Paramotor and the Ozone Roadster 3 24m Glider.
---
Matt Massie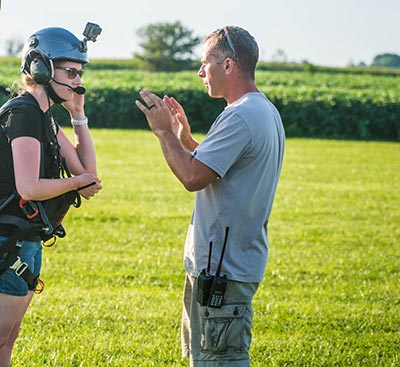 ---
Matt began his aviation career in General Aviation and skydiving, but transitioned strictly to gliders in 2010. He was trained in paragliding, speed flying and speed riding in California before learning paramotoring in 2015. His certifications include USPPA Paramotor Instructor, P4 Paragliding, M2 Miniwing and Advanced SIV.
His personal equipment setup is the Air Conception Nitro 200 Paramotor with Ozone Angel 140SQ Reserve and the Ozone Viper 4 18m Glider.
---
Jacey Massie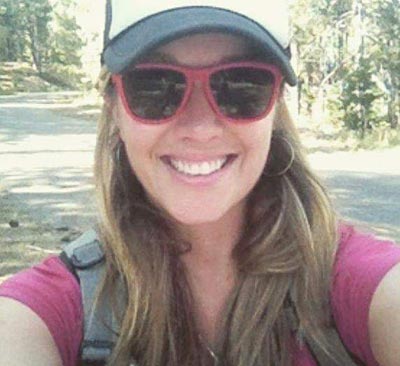 ---
Jacey joined Midwest PPG in 2017 and handles our training booking, equipment purchasing and generally keeps us on track and organized. She's usually the first person you meet when you join the Midwest PPG Family. She is a paraglider and speed wing pilot and though she doesn't fly paramotor yet, she plans on learning soon.

Midwest Powered Paragliding
(317) 296-7888
Office Hours (Offsite):
9 am - 5 pm EST   
Sunday-Monday-Wednesday-Thursday-Saturday
Office Closed : Tuesday and Friday
Training Facility Hours:
Hours at the field vary due to weather and training schedules.  Please call to schedule an appointment prior to coming.