Midwest Powered Paragliding
MIDWEST PPG has been training safe pilots and selling top quality gear since 2004
Since the beginning, the focus has been on training conservative, safe pilots. Powered Paragliding can be a VERY safe sport as long as you follow a few guidelines. Midwest PPG is dedicated to teaching you these boundaries. We train and fly in the safest of conditions. We will never put a new pilot in the air when conditions are less than perfect. Remember, there are old pilots and there are bold pilots, BUT there are no OLD BOLD PILOTS!
Dave has been flying Powered Paragliders since 2000. In 2004 Dave founded Midwest PPG and started teaching Powered Paragliding. As word spread that there was an instructor in Indianapolis, the sky over Indiana started to fill up with the colorful paragliders. Dave now has students coming from all over the United States and internationally to train here in central Indiana. Dave has trained over 300 pilots. Midwest PPG is an authorized dealer for Air Conception & Mini-Plane paramotors and Ozone & MACPARA gliders
Matt began his aviation career in General Aviation and skydiving, but transitioned strictly to gliders in 2010. He was trained in speed flying and speed riding in California before learning paramotoring in 2015. He is a USPPA PPG3 rated pilot working towards his instructor rating and has been working with Dave since 2016.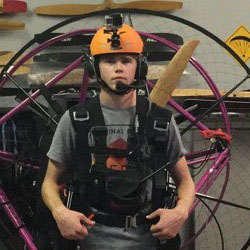 Jesse has always been interested in aviation. As a kid every once in a while a paramotor would fly over his house, but until last year he didn't know what it was. Once he found out what it was, he was pretty quick to get involved and sign up for training. He likes the outdoors in general, and one of his other big hobbies is racing dirtbikes during the summer. Welcome to the team Jesse!
Midwest Powered Paragliding
(317) 296-7888
Office Hours:
Open : 9 am – 5 pm EST   
Sunday-Monday-Wednesday-Thursday-Saturday
Closed : Tuesday and Friday
Field Hours:
Hours at the training facility vary due to weather and training schedules.  Please call to schedule an appointment prior to coming.
Mailing Address:
7851 Shannon Lakes Way
Indianapolis, IN 46217
Training Facility:
3477 S 200 E
Franklin, IN 46131