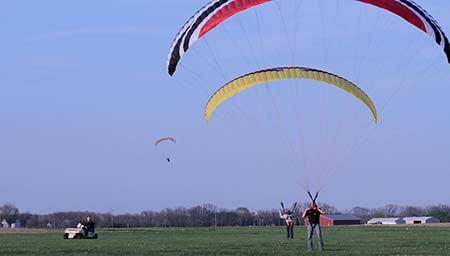 We take your training seriously.
Over the last decade, we've developed and refined a complete training package based on the USPPA guidelines. Our students go home with not only the skills necessary to fly paramotors, but the knowledge to keep themselves and others safe and the wisdom to make sound decisions as Pilot in Command of an aircraft.
What's Included?
You'll be training on our gear. Your training is broken down into 2 phases. First off, you'll get extensive training in the field ground handling your glider and classroom work covering laws of the sky, glider and motor essentials, weather and safety.
In Phase 2, we'll put everything together in flight and develop your ability to skillfully take off, fly and land your glider.
Ready to Fly?
If you're ready to take the first steps towards flight or still have questions, fill out our New Pilot Contact form and we'll get back to you to discuss our schedule options or assist you in any way.
New Pilot Contact Form
Powered Paragliding Training
---
One-on-One Training (Hourly)
$75
Sit in on classroom groundschool
Brush up on skills
Video review of your launches/landings
Contact
PPG 2 Foot & Wheel Launch
$3250
Comprehensive Ground School
Extensive Ground Handling
Forward &
Reverse Launch (Foot Launch)
Train On Our Gear
USPPA PPG2 Rating Pathway
Learn More
PPG3 Skills Clinic
$500
Launch Tune up
High Wind Training
Precision Landings
Low Level Flight
PPG3 Ground School
Learn More

Midwest Powered Paragliding
(317) 296-7888
Office Hours (Offsite):
9 am – 5 pm EST   
Sunday-Monday-Wednesday-Thursday-Saturday
Office Closed : Tuesday and Friday
Training Facility Hours:
Hours at the field vary due to weather and training schedules.  Please call to schedule an appointment prior to coming.
Mailing Address:
7851 Shannon Lakes Way
Indianapolis, IN 46217
Training Facility:
3477 S 200 E
Franklin, IN 46131